Batory Management and Bullpen Research & Consulting Inc release their Q2-2023 GTA High-Rise Land Insights Report in August, showing that the average estimated land price per-buildable-square-foot for high-density land transactions in the GTA was $77, the lowest quarterly result since Bullpen and Batory started publishing this report in 2017.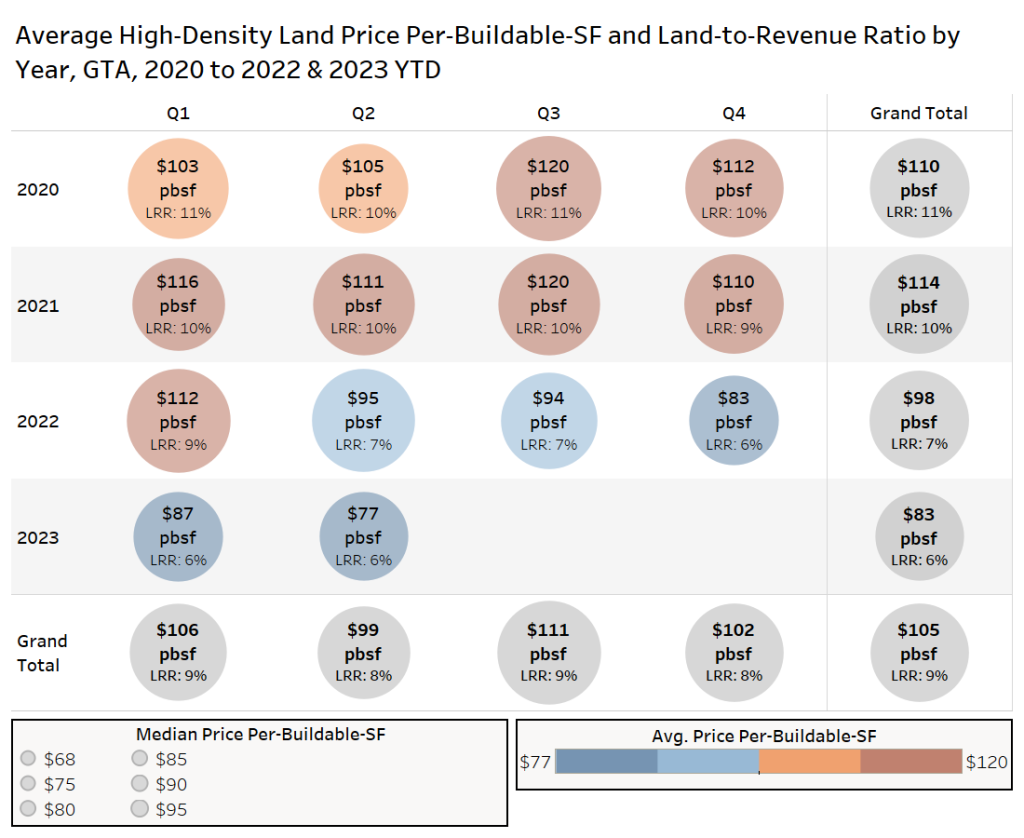 The Q2-2023 land price is down 19% year-over-year from $95 pbsf in Q2-2022 and down 31% from the $111 pbsf from Q2-2021. Due to global inflation at the tail end of the pandemic due to supply chain issues, and emergency level lows in interest rates, government intervention was required to battle inflation. In an interview with RENx, Bullpen President Ben Myers said, "Ten interest rate hikes have really taken a bite out of pre-construction demand," which has negatively impacted demand for lands suitable for high-rise apartments.
Not surprisingly, based on the overall decline, both the '416 Area' and the '905 Area' have seen a consistent decline in transactions over the past few quarters, reflecting the impact of sluggish pre-construction condo sales, higher borrowing costs, and cautious lenders. Q2-2023 saw only 19 total transactions, representing the lowest activity since 2018. Correspondingly, the '416 Area' hit a low of $86 pbsf, down 23% from Q2-2022 pricing of $111 pbsf, while the '905 Area' is also down to $43 pbsf, a 12% decline since Q1-2023 pricing of $49 pbsf.
When looking at the price per-buildable-sf by municipalities, pricing has fluctuated over the years, reflecting changing market conditions. The average high-density land price in Toronto averaged $159 pbsf from 2018 to 2023 but decreased 34% from 2021 ($185 pbsf) to 2023 ($122 pbsf). During the second quarter, there were no land transactions featuring fully entitled approvals, mainly due developers short-term hesitancy regarding the market.
Quoting more from Ben Myers' Real Estate News Exchange interview, he said. "There's no rush for anyone to bring a property to market right now for sale or for rent, despite the fact that rents are booming." He also states that many new condo units that are selling are selling at a price level from two years ago, and developers who can't get their costs in line with those revenue levels will not launch a new project.
While the condo market has significantly softened over the past year due to the Bank of Canada's rate hiking, demand for new condo units in the GTA remains high at the right price, and investors still believe in the long-term viability of investing in pre-construction.
Batory believes that the lack of supply will continue to be a big issue over the coming years, with high Federal government immigration quotas set to keep end-user accommodation needs high. Batory also contends that most GTA municipalities will fail to meet their required housing targets set by the Province, and there is a strong chance that more provincial government intervention in planning over the years could occur. Additionally, the market remains very uncertain in the short term, though the development industry will remain hypervigilant regarding new acquisitions of high-density lands. There still has not been a run of distressed land sales, although experts believe this could begin in 2024. Changes in the GTA condo market could lead to an influx of purpose-built rental developments to satiate demand for housing in the GTA.
Please join our mailing list to enjoy further insights about the GTA real estate market, including the Baker Real Estate sponsored GTA High-Rise Land Insights Report.
Sponsor