Bullpen Research & Consulting and Batory Management released their Q1-2023 GTA High-Rise Land Insights Report in May. Highlights from that report are summarized below.
The report is sponsored by: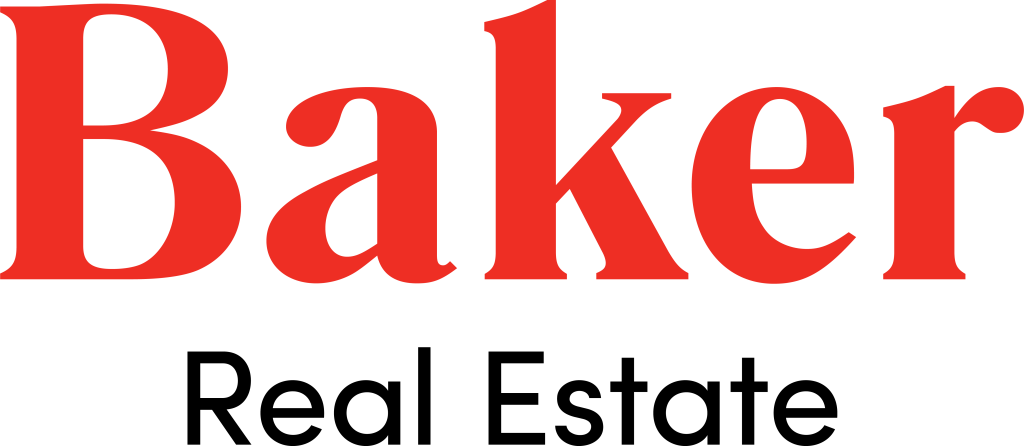 In Q1-2023, the price of high-density lands in the GTA decreased by 3% annually, with lands being traded for $92 per-buildable-sf (pbsf). Land prices have trended downwards since Q3-2019, when the land market peaked at $147 pbsf.
Over the past few years, high-density lands in the '416 area' of the GTA in downtown Toronto have traded for $100 to $140 pbsf on average on a quarterly basis, with Q1-2023 pricing sitting at $123 pbsf. The '416 area' (the amalgamated City of Toronto) hit a five-year low in Q4-2022 of $100 pbsf, and the increase in early 2023 can be attributed to more sales in higher-end locations and deals that originated during the market boom from Q2-2021 to Q1-2022 but closed early in 2023. At the same time, land price in the '905 area' (GTA suburbs) has decreased significantly, with Q1-2023 land pricing at $49 pbsf, which represents a 29% annual decrease and is almost 16% below the Q4-2022 average of $58 pbsf.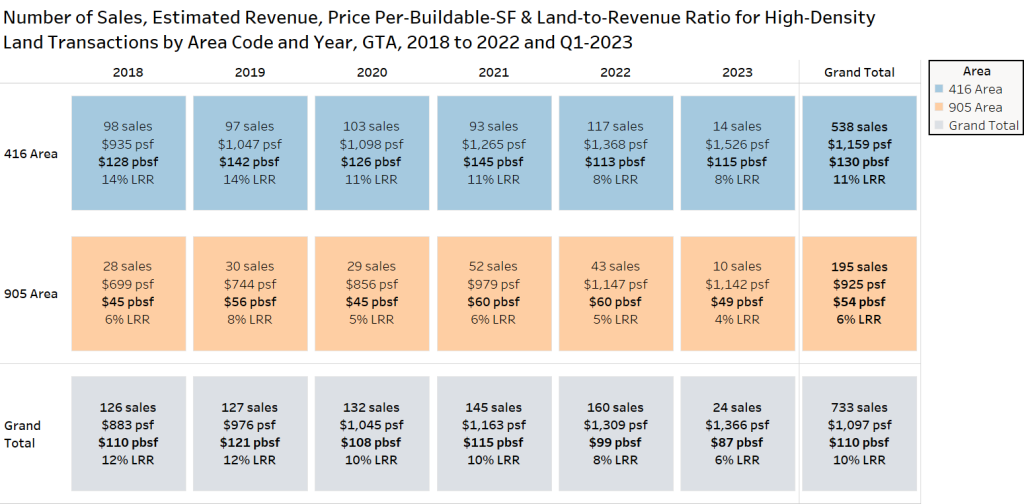 Another important metric to consider when looking at the real estate market is the land-to-revenue ratio, which estimates the relationship between land value and new condo prices. In Q1-2023, the land-to-revenue ratio was 8% on average in the '416 area' and 4% in the '905 area', down from their respective long-run averages of 11% and 6%.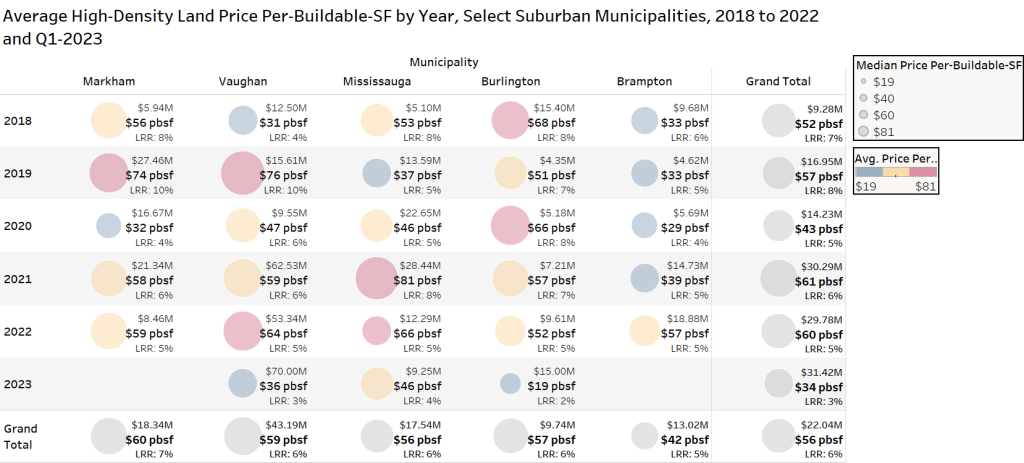 In a recent interview with Real Estate News Exchange, Ben Myers – President of Bullpen Research & Consulting, says that vendors remain firm on their land value expectations but are willing to get creative with financing. He also notes that there haven't been any major distress sales, which were expected due to some people buying land at inflated prices during the boom and "potentially getting out over their skis," as Ben says. However, Myers believes we're still a little while away from seeing this type of distress in the market. Ben explains, "There's a little bit of a disconnect between where the resale market is and the cost to deliver a new project, and those things are very, very slow to adjust."
While the current new home market environment suggests caution, Bullpen remains convinced there is a massive under-supply of GTA housing. With record population growth fueled by immigration set to keep shelter demand high, builders and investors who keenly analyze the current marketplace can find deals to fill their development pipeline.
If you're looking for assistance in underwriting a current or future development opportunity from a market and revenue perspective, please reach out to Bullpen Consulting today.  
Connect with BullPen Research & Consulting Email: ben@bullpenconsulting.ca ;Telephone: 416-716-2096
Connect With Baker Real Estate Email: info@baker-re.com ;Telephone: 416-923-4621