The Latest Collaborative Analysis From Bullpen Research & Consulting Inc.

Bullpen Research & Consulting recently worked on three reports on the 2019 residential housing market, and helped formulate 2020 forecasts for Engel & Völkers and Rentals.ca. Summarized below is some of the key findings from those reports.
Canada
Strong population growth and low unemployment are two of the key demand drivers that will boost the Canadian resale real estate this year. Engel & Völkers has forecasted resale price growth of 4% in 2020.
To view the Engel & Volkers Report, Click HERE
Statistics Canada data shows that Canada's population increased by nearly 560,000 in 2019 to reach 37.8 million, a growth rate of 1.5% – the highest rate seen since the early 1990s; the highest growth amongst G7 countries. The federal government has made a commitment to increase immigration, and non-permanent residents continue to make Canada their temporary home for post-secondary education and part-time contract work, which will continue to fuel demand in 2020.
Canada's healthy labour market will also further housing demand, primarily in major metro areas. The unemployment rate is expected to rise slightly in 2020 to 5.6%, marginally higher than the low of 5.2% achieved in 2019.
According to the Canadian Quarterly Economic Forecast by TD Economics in December 2019, the bank is forecasting resale price growth of 7.8% annually in 2020. CMHC's Housing Market Outlook for Canada, released in fall 2019, calls for national resale prices to rise between 5.6% and 6.8% in 2020.
The following charts highlight some key findings from a survey of Engel & Völkers agents.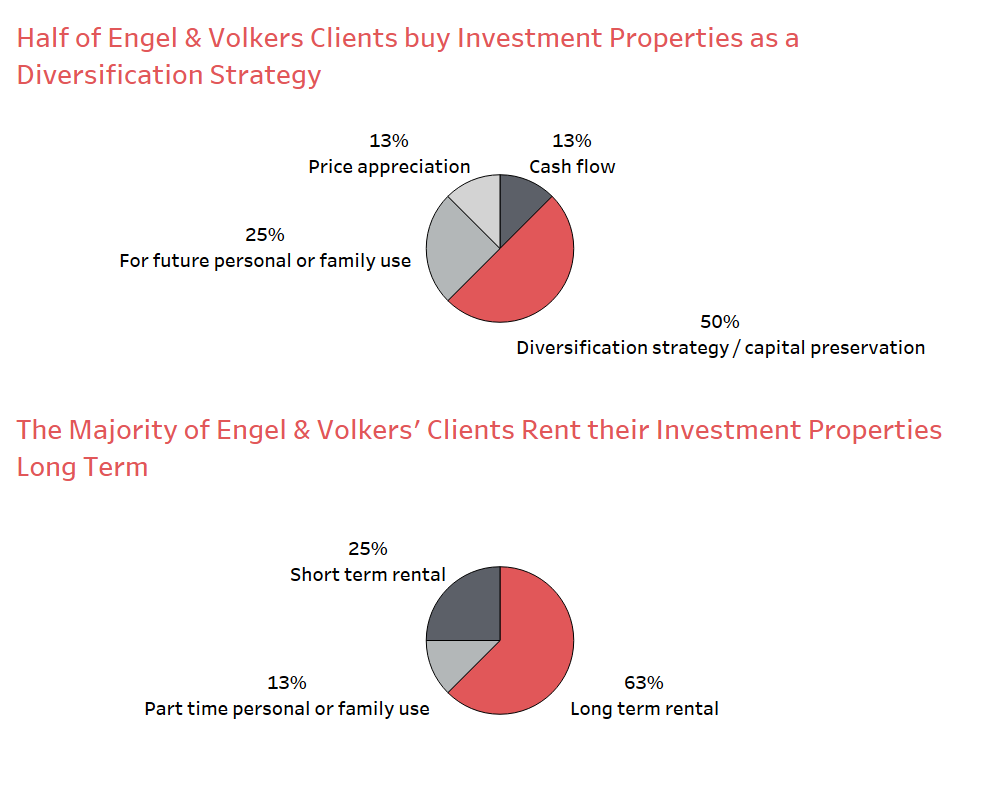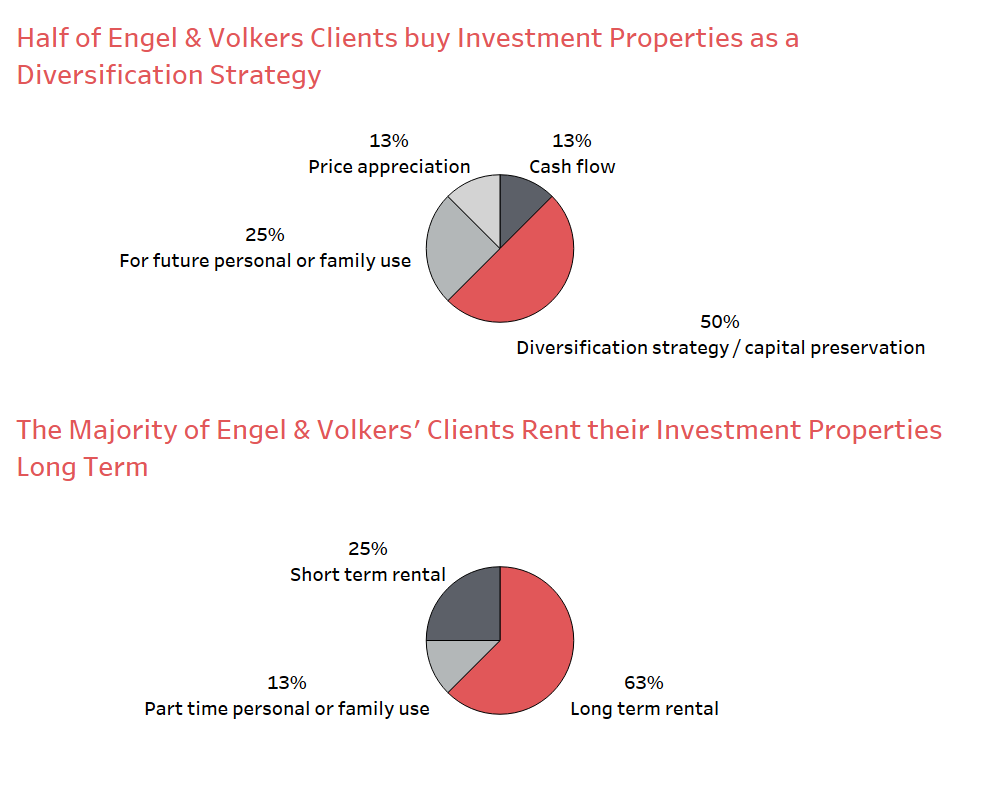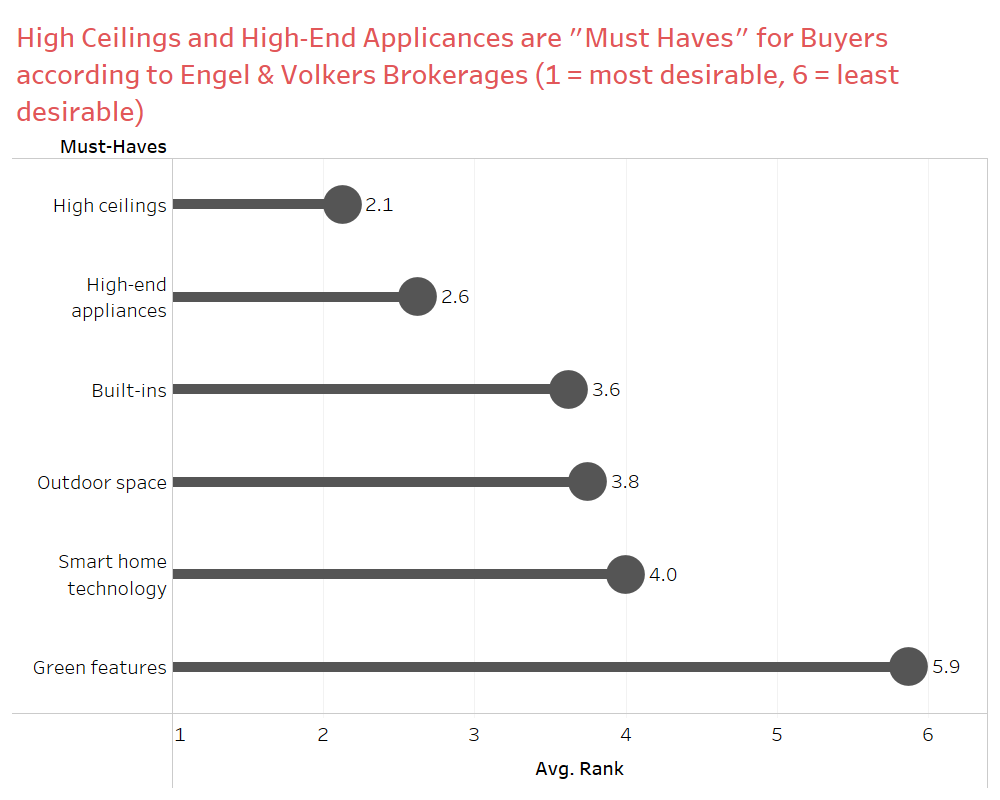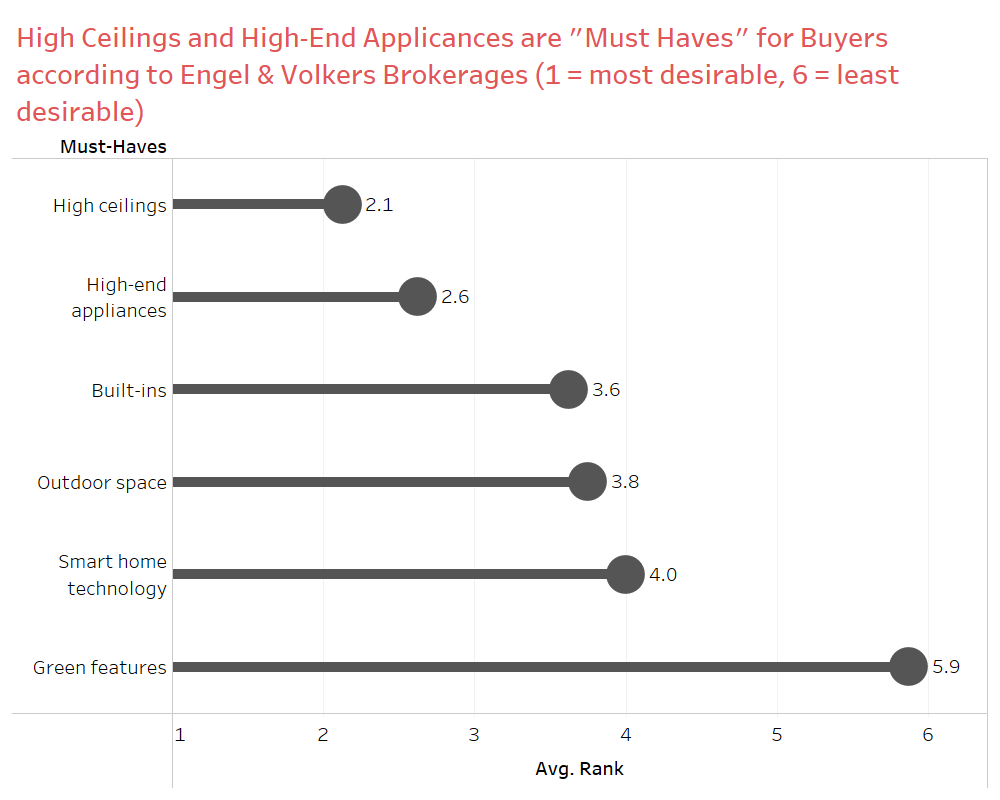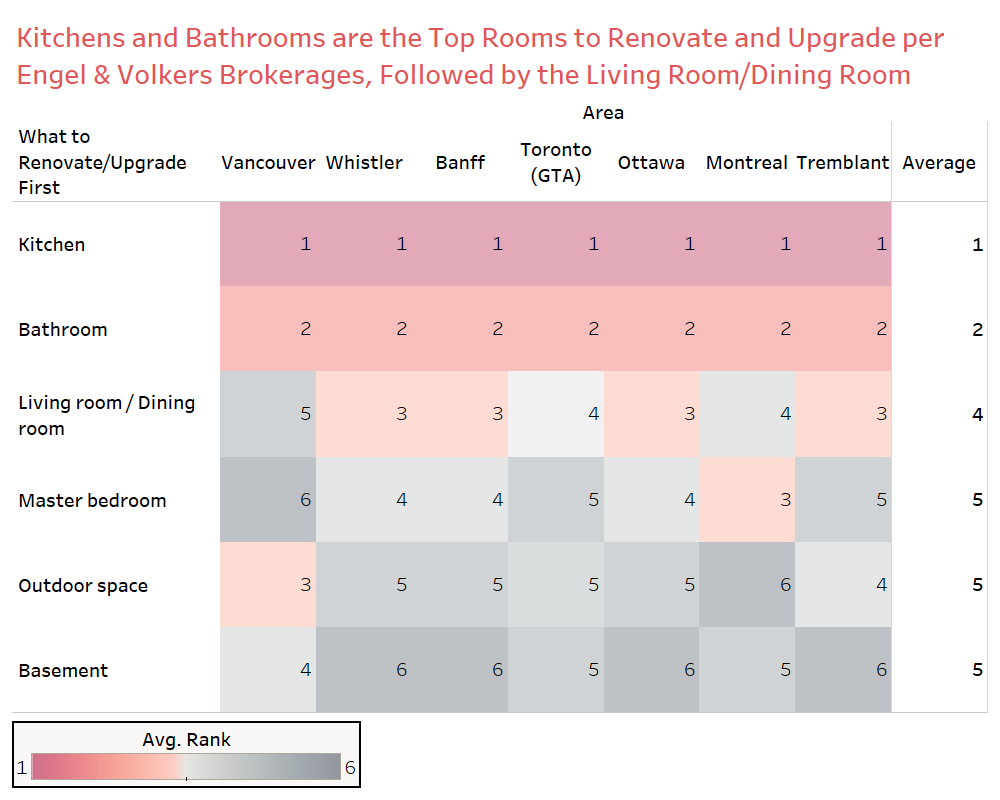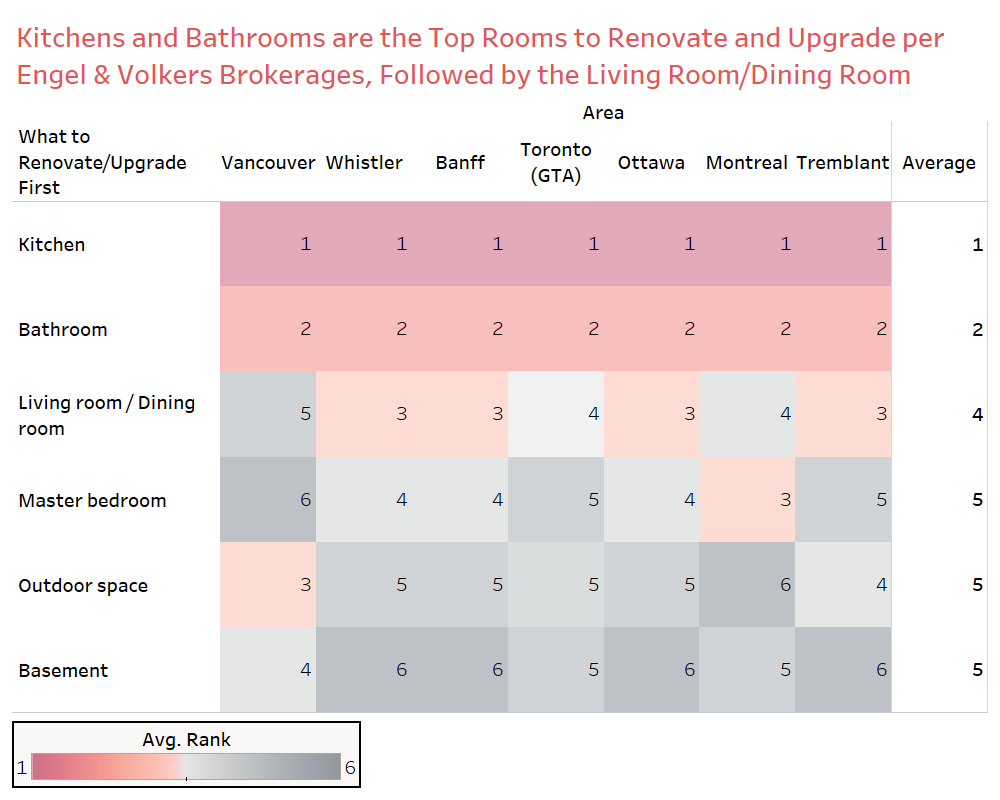 National Rental Rates
National average rental rates for properties listed on Rentals.ca in December 2019 was $1,854 per month, a decrease of 3.3% monthly, but an increase of 4.3% annually. The median rental rate was $1,779 per month in December, up 7.8% from a year earlier ($1,650). Looking at year-over-year rent growth by property type, the rate was highest for basement apartments in the fourth quarter, up 14.2% over Q4-2018, followed by townhouses at 11.5%, single family homes at 8.1%, rental apartments at 5.7%, and condos at 1.2%.
Rental rates were highest for single-family homes (single-detached and semi-detached) at $2,592 per month, followed by condos ($2,488), with basement apartments the lowest ($1,448).
Condo apartments had the highest rent per square foot ($3.27), ahead of rental apartments ($2.01), while townhomes had the lowest ($1.45).
To view the latest National Rent Report by Rentals.ca, Click HERE
Asking rents for all property types in Toronto, Vancouver and Montreal increased by 9%, 11% and 25% annually in 2019; the three most in-demand cities in Canada are experiencing significant rent growth.  Rental affordability in British Columbia and Ontario is expected to get worse in 2020, despite an increase in new rental apartment construction, the crackdown on empty units and AirBnB in several markets. Rentals.ca is forecasting more modest rental growth in 2020 versus 2019, but the expectation is average rents will grow faster than inflation in most major markets outside of Alberta and Saskatchewan.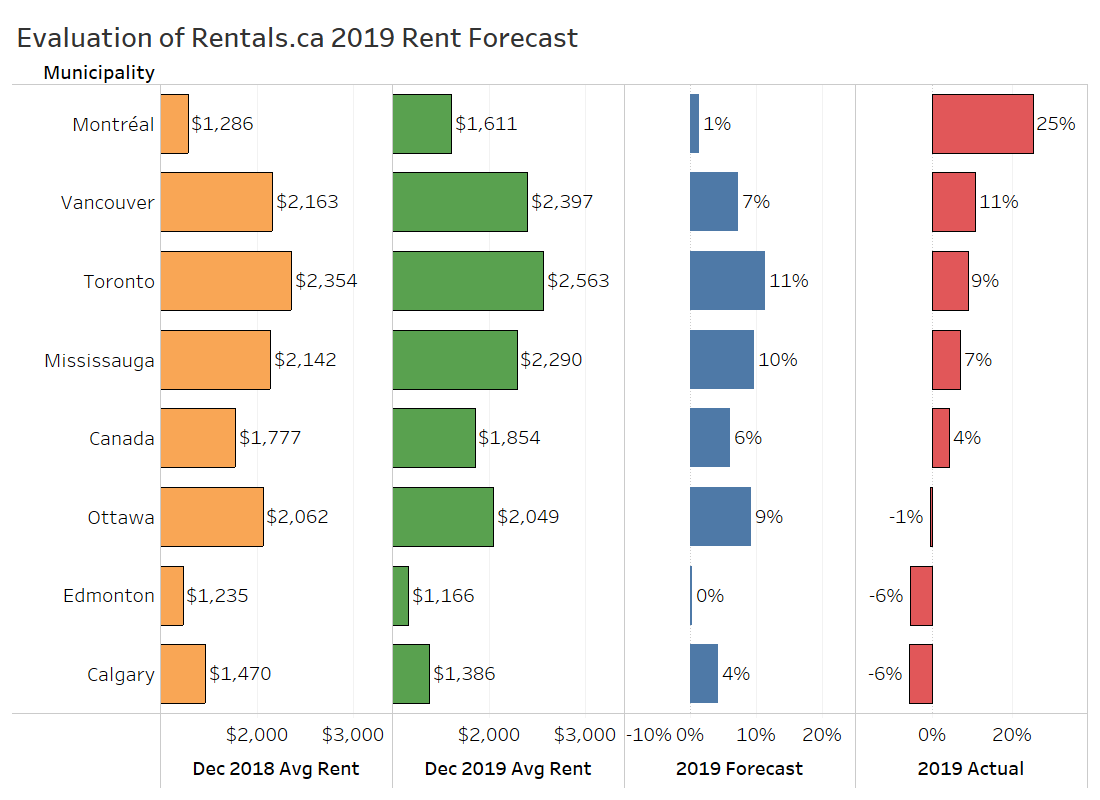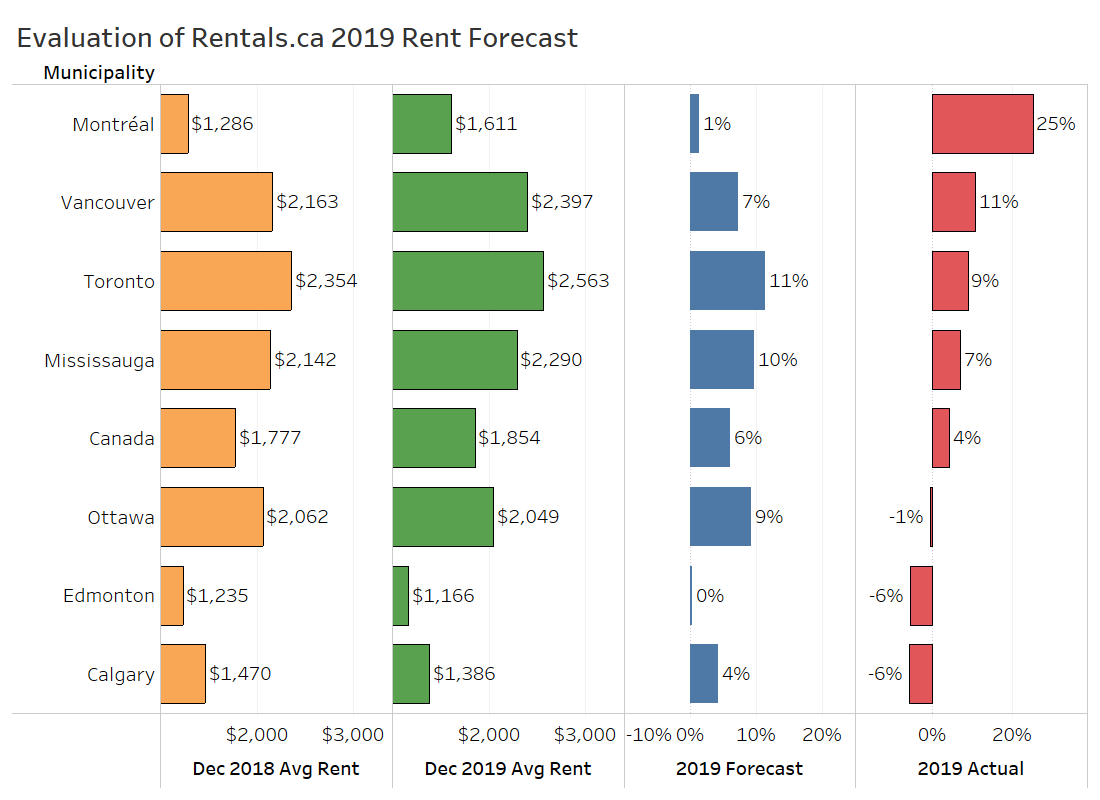 Vancouver
Impacted by the foregin buyers tax and the empty homes tax, Vancouver experienced a market shift in resale during 2019, switching from a sellers market to a balanced market. Prices declined in 2019, but a sales surge in the second half of the year indicates a strong price growth in 2020. There has been increased interest from Hong Kong due to its current political instability according to the local Engel & Völkers agent. Annual growth in Vancouver is projected to rise 4% to 7% in 2020, with the expectation for increased activity within most price points.
Average rents in Vancouver increased by 11% annually.  Higher-rent condominium apartments made up a greater share of total listings on Rentals.ca in 2019 than 2018, which pulled the average rent level up.  Median rent was up 10% in December 2019 ($2,175) versus December 2018 ($1,983).
Toronto
Toronto's 2019 market proved buoyant, with the second part of the year seeing it find its footing and maintaining its position as a sellers market. Both a strong economy and population growth, driven by domestic and international immigration, are helping to fuel demand.  The CMHC's Fall 2019 Housing Market Outlook reports Toronto CMA population is expected to grow by 138,000 people in 2020, and employment will rise by 92,000 jobs.  2020 prices are expected to increase at a quicker pace of 4% – 7%. However, very early 2020 results suggest that double-digit growth isn't out of the question.
Approximately 16,000 resale properties sold for over $1 million in the GTA in 2019, which was about 18% of the overall total of 87,825. The 16,000 units sold for a total value of $23.8 billion or $1.52 million on average. Look for a big increase in the luxury market in 2020.
For more data on the $1 Million dollar plus market in Toronto, read the latest Firm Capital newsletter, click HERE.
As for rentals in the GTA, the former municipalities experienced significant jumps. Scarborough topped the list for annual rental rate growth at 24.3% while North York increased by 18.1%.  Average rental rates in the City of Toronto (former City, pre-amalgamation) grew by 9% year-over-year, while median rent for all property types was up 10% annually from $2,225 to $2,450.
Montreal
Montreal is experiencing bidding wars in record numbers, a shortening of days on market, and many properties selling above asking. It is a growing sellers market, partially fuelled by an emerging tech economy. Montreal has also benefited from a lack of foreign buyers tax. Annual resale price growth in Montreal is predicted to be 4% to 7% in 2020.
The average rental rate in Montreal increased by 25% from $1,286 per month to $1,611 per month. There were more downtown listings in 2019 versus 2018, which likely played a factor in skewing the December 2019 rent level upward.
Further Reading
Rentals.ca December 2019 Rent Report
Rents in Canada to grow by 3% in 2020: Rentals.ca Report
Toronto poised to lead growth in rents