GTA High-Rise Land Insights Report is sponsored by Baker Real Estate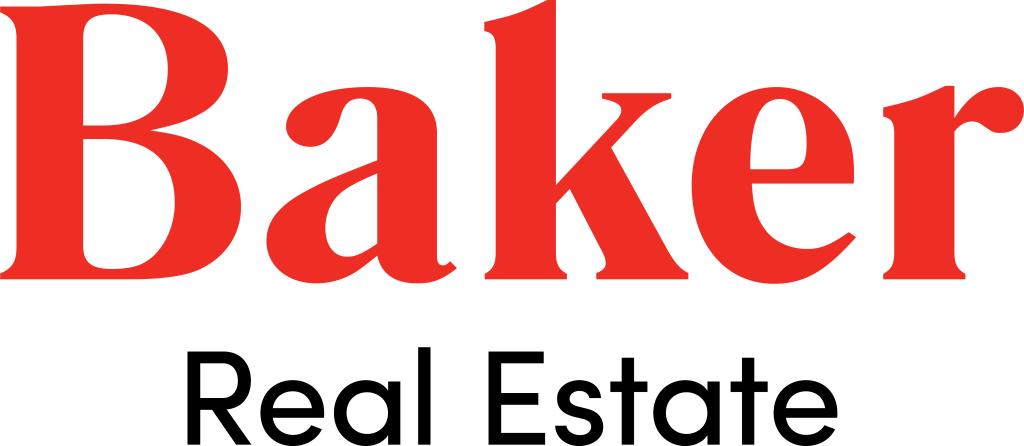 The Greater Toronto Area's (GTA) real estate landscape continues to evolve, marked by fluctuating property prices, declining high-density land transactions, and a changing condominium market. In the third quarter of 2023, the average estimated land price per-buildable-square-foot (pbsf) in the GTA reached $112, reflecting a 19% increase from Q3-2022.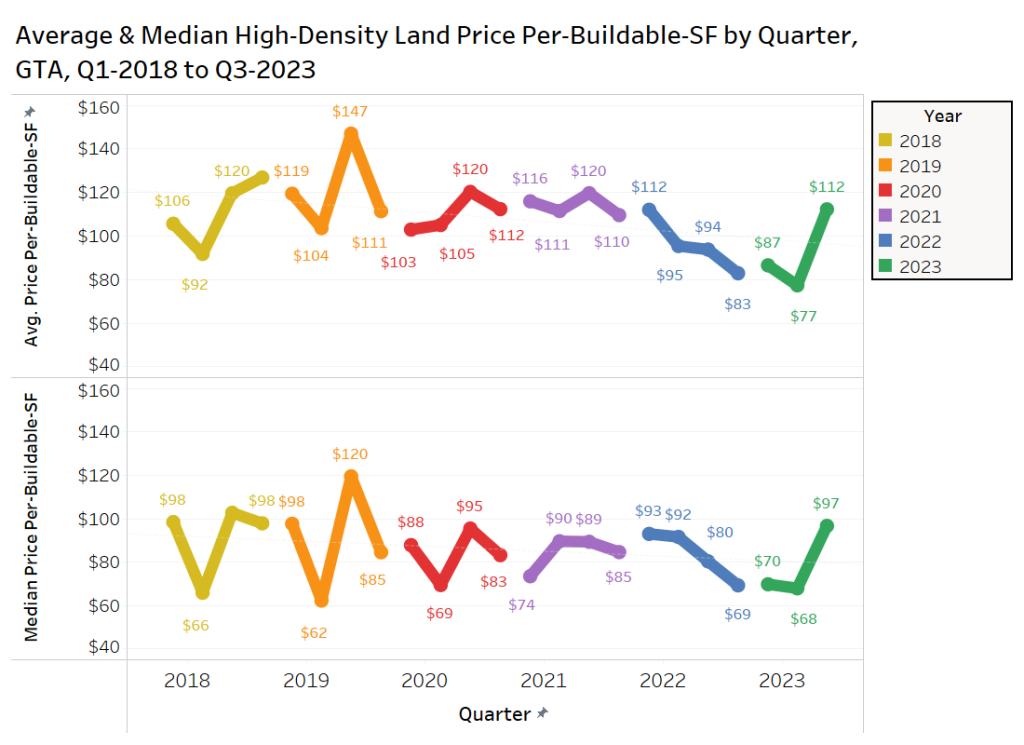 The surge in land prices during Q3-2023 can be attributed to several factors, including a higher share of lands trading with zoning approvals, a significant transaction in Toronto's Deer Park, and assembly add-ons trading at a premium. Despite the increase, the total number of high-density land transactions in the GTA hit a record low of 16 sales, continuing a downward trend observed over the past six quarters.
A metric that we started and monitor closely is the estimated land-to-revenue ratio (LRR) – the relationship between land prices per-buildable-sf and the going rate for new condominiums on a per-square-foot basis. In 2023, year-to-date, the GTA's overall LRR stands at 6%, indicating a decline over the past five years from a peak of 11.9% in 2018. In the '905 Area,' purchasers paid only 4.2% of revenue for land in 2023, the lowest level in the last six years. Similarly, the '416 Area' witnessed a decrease in the average LRR to 6.7% from 8.0% in 2022, aligning with a consistent downward trend since 2018.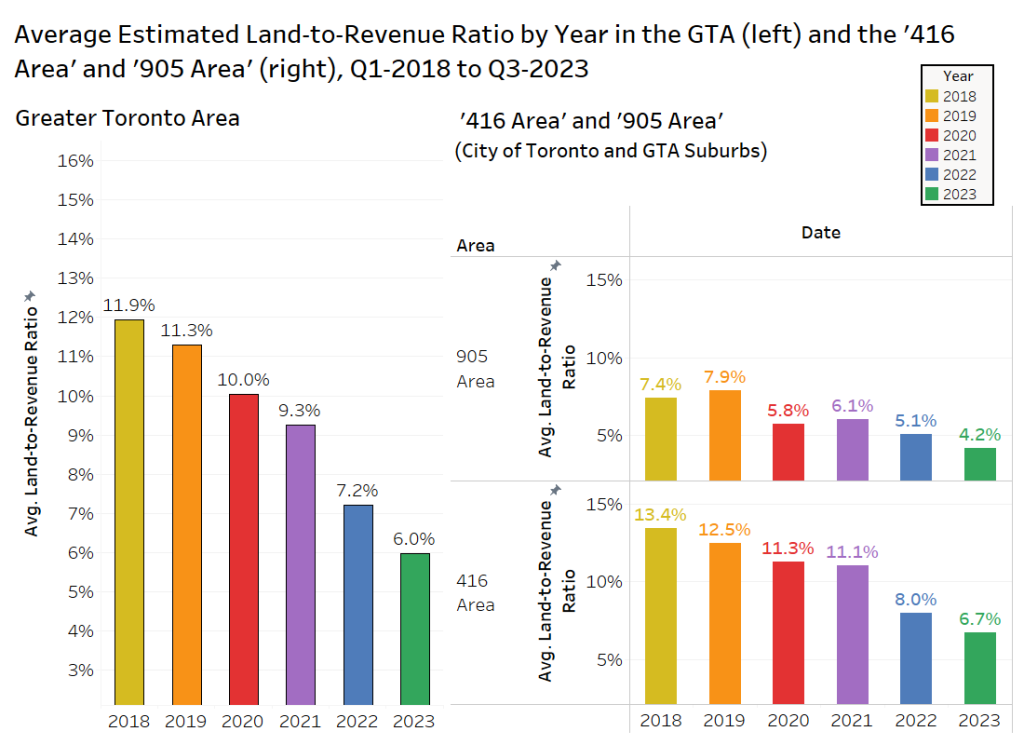 The decline in LRRs over the last ~15 months can be attributed to persistent market uncertainty and sticky revenues. Developers, cautious about future price/rent growth, are less willing to pay higher prices for land, creating a wide gap between developer expectations and vendor pricing. Market conditions, compounded by careful debt lenders, contribute to the prevailing caution in the industry.
The new condominium apartment market has softened considerably over the last year and a half, with lower-than-usual absorption rates. While demand endures, investors are taking a wait-and-see approach, seeking discounted pricing and incentives and favouring experienced developers. The gap between developer offers and vendor expectations persists in the high-density land market, with many vendors waiting for market conditions to improve.
The GTA's quarter-century streak of consecutive annual price gains per-square-foot is at risk in 2023. High borrowing costs, decreased launches, and a shift away from prime downtown projects contribute to stagnating prices. Eliminating GST on new rental apartments is a positive step to spur demand for high-density. Still, few developers have ventured into the purpose-built rental arena previously, and the learning curve is steep.
Economists anticipate the Bank of Canada's overnight rate remaining stable over the next year and potentially decreasing in 2024 or 2025. Elevated population growth, rising unemployment, and global risks are affecting the high-density land market. While distressed deals may increase in 2023-2024, demand for high-density properties remains subdued.
In conclusion, the GTA's real estate landscape remains characterized by unpredictability and uncertainty. Both developers and financial institutions approach high-density land acquisitions with heightened vigilance, a trend expected to persist for the next 9-12 months. Despite challenges, the GTA's long-term undersupply and investor confidence suggest that the market will ultimately be resilient.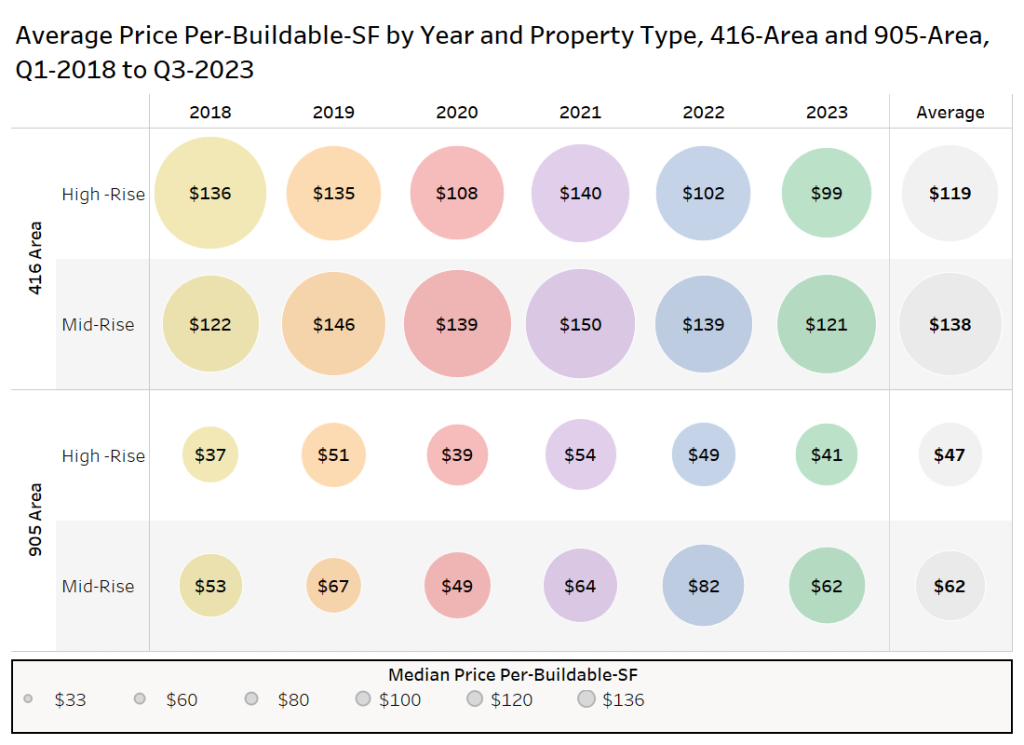 Join Bullpen's mailing list here for more valuable insight like this!