TUC – Episode 8 Blog
On this week's episode of Toronto Under Construction we welcome Jonathan Goldman, President of Stafford Developments. Jonny joins us to talk about his family history in real estate, his diverse business portfolio in cannabis, tech, as well as other start-ups, the barriers in the Toronto Real Estate industry and of course, shares his thoughts on the current COVID-19 pandemic and what this will mean for our economy and our industry.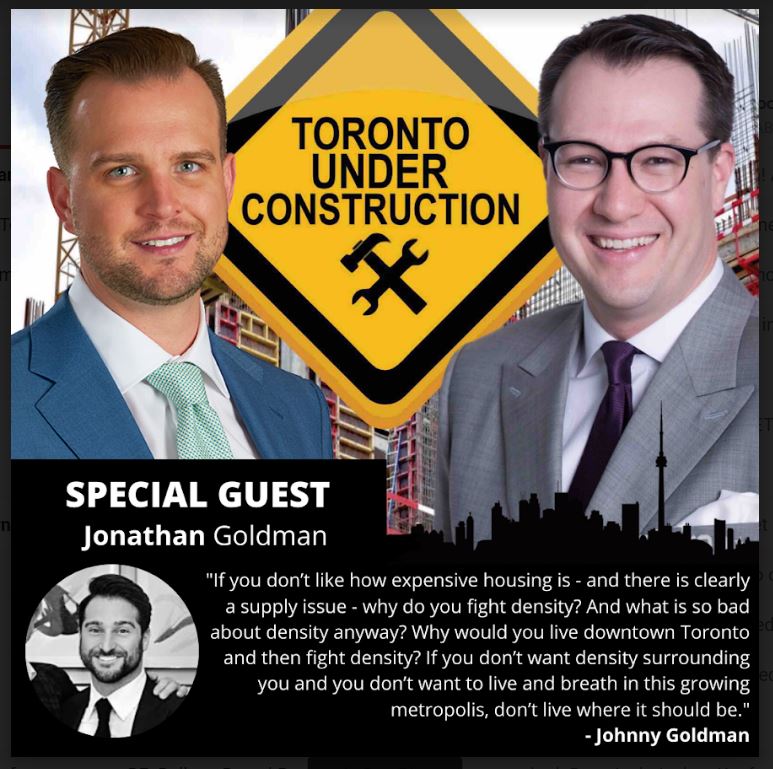 Jonny started his career in commercial real estate, and founded, built and sold one of Canada's largest renewable energy development firms. From a very young age, Jonny spent time with his grandfather Murray, touring construction sites and empty plots of land that would become future master planned communities. So he naturally fell into a role in real estate selling his first community Film District Lofts in the city's east end.
Jonny eventually partnered with his father, and joined the family business, as a developer, becoming the President of Stafford Developments in 2015. Building homes is something Jonny is truly passionate about, and on today's episode he shares some details about the red tape with politicians, and risks facing developers in Toronto. He discusses how as developers it's their business to push the envelope on beautiful designed homes and condos that add to make up of the Toronto skyline. The guys talk briefly about Marc Andreessen's article It's Time To Build and discuss the issues of supply and demand, as well as density in Toronto. "If you don't like how expensive housing is – and there is clearly a supply issue – why do you fight density? And what is so bad about density anyway?" The guys continue to discuss, how as an industry, Toronto Real Estate creates so many jobs and puts so much money back into the system – so why do so many people fight height and density?
 Many people across Toronto have accepted the narrative that has shifted development away from being a positive, and instead have changed the discourse to discuss the "damages" it causes to a neighbourhood. The issues remain that the cost of development continues to increase and when the amount of supply drops, the costs to the end user also increases – so when a building loses floors due to NIMBY backlash, the rest of the units in that building increase in cost to make up for the lost floors.
Ben goes on to discuss how he has taken on defending the industry on Twitter because no one truly understands the profits and costs associated with development. "Most projects are being built on a less than 10% profit, and given the amount of risk that goes into these projects, it's not enough."
Steve and Jonny continue to explain that regular citizens don't understand the way financing works in the industry, and that if we slash developers profits, the system won't actually approve the project based on it's low profit margins. "There's certain minimums we have to make as a threshold to get projects approved for construction." As a mortgage capital firm, Cameron Stephens won't look at projects without a 10-12% profit margin, and with the banks, you're looking at 15-20%, just to get approval to start construction.
The guys move on to discuss COVID-19 and its affect on this industry and how Stafford Developments is preparing for the new normal, "It's time to cut the shit and stop playing politics. I applaud everything everyone is doing to help, but it's time to step up and get the PPE we need….The food banks are in desperate need….Everyone who can help needs to help."
Tune in to episode 8 of Toronto Under Construction with Ben, Steve and special guest Jonathan Goldman: Click Here.
Or go to Spotify or iTunes and subscribe today!
Follow Us On Twitter @BenMyers29 and @TheOneStevieC
Interested in being a guest on our podcast? Send us an email.
___________________________
What Else Is Going On?
COVIDEO on YouTube – Ben Myers chats with Daniel Foch
Sign Up for COVID-19 & The Pre-Con Market Zoom Webinar
BLOG TO – Toronto Rents are Starting to Drop