To kick off our first episode of 2021, we're excited to welcome Jeff Hull from Hullmark to the #TUCpodcast.
Thanks again to our sponsor Neezo Studios, find them here: CLICK
After taking the reins from his grandfather in 2008, Jeff has transformed Hullmark from a suburban residential condominium developer into an urban focused, award winning and vertically integrated development and asset manager across all asset classes. Since 2008 Jeff has grown Hullmark's assets under management from $250 million to $1 billion.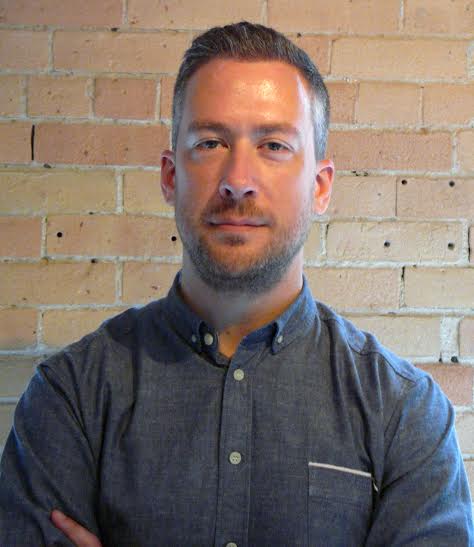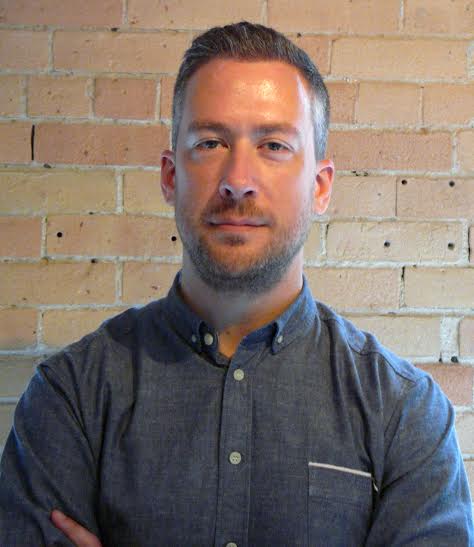 Episode 17 begins with Jeff telling us about his early years growing up in Oakville, and attending McMaster University, graduating in Business, and choosing a ski "career" in Golden, BC instead of taking his first full time job offer at TD Bank. After "coming to grips with having to grow up", Jeff got the call from his grandfather asking if Jeff would be interested in learning the family business and helping him complete his legacy site, the Hullmark Center at Yonge and Sheppard. Recognizing how "green" he was in the industry, Jeff fast tracked through a makeshift intensive download of the Schulich School of Real Estate's course work from James McKellar, as he began germinating the new Hullmark.
As the new President of Hullmark, Jeff decided it was time to focus on income producing properties that would have regular cash flow to compliment their residential real estate development business. As a young, almost 30 year old guy, Jeff decided it was time to invest in the downtown Toronto lifestyle and commercial real estate. Today, Hullmark has a 40-45 project portfolio and continues to be a major player in Toronto's downtown real estate scene.
Design And Branding
"Our approach to design is to always be thoughtful, aspirational and bold."
At the time Jeff joined the real estate industry, he felt like there wasn't a lot of investment in design driven buildings. Using himself as a target market, Jeff used design as a tool to invest in and help grow the business. During the episode he says, "your perspective changes, when you're planning on owning the building long term. You look at investing differently. Where can I invest that will allow me to save operating costs over the life cycle?"
Using 80 Atlantic in Liberty Village as an example, Jeff shares the details of developing new office space, and competing on more than just 'price and location'. Listen in around the 32:00 minute mark to learn more about how Jeff created a premium product with timber to create a financially feasible office building in Liberty Village. "We took a risk, but within a few months, and still during construction, we had the building fully leased with above market rates."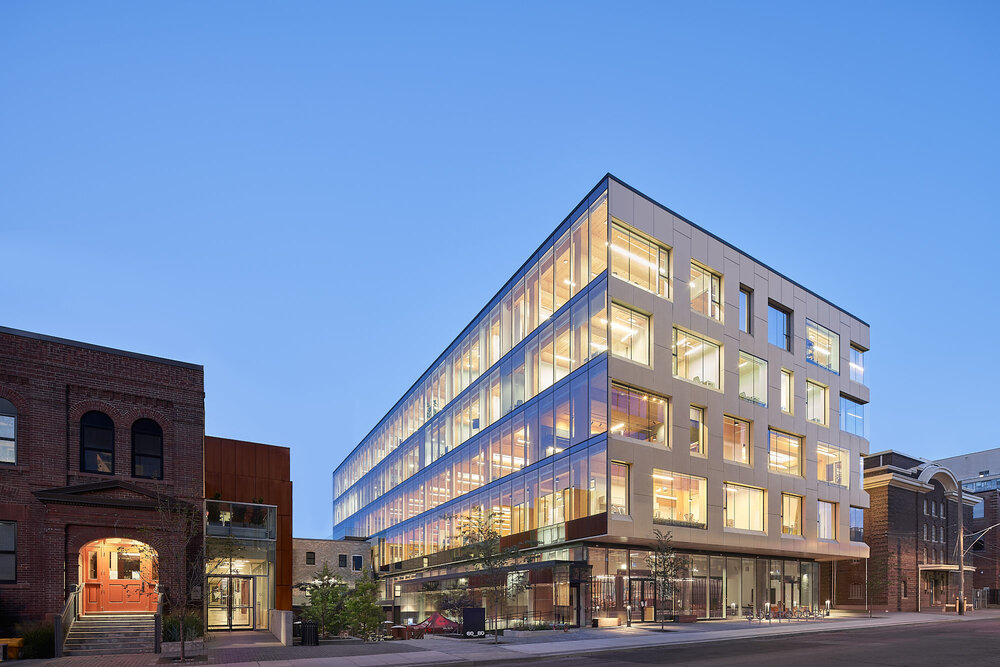 Neighbourhoods & Affordable Housing
"As we go forward, alot of our projects are geographically concentrated. Each project we execute on, improves all the other projects we build in the neighbourhood."
As the episode continues, the guys discuss neighbourhoods and working with the other builders in the city to improve neighbourhoods and communities together. Discussing the Power St. site, Jeff shares details on the opportunity to assemble a whole city block to create a unique development site. "The position of the project between two arterial roads, Richmond and Adelaide, make it the project everyone will see!"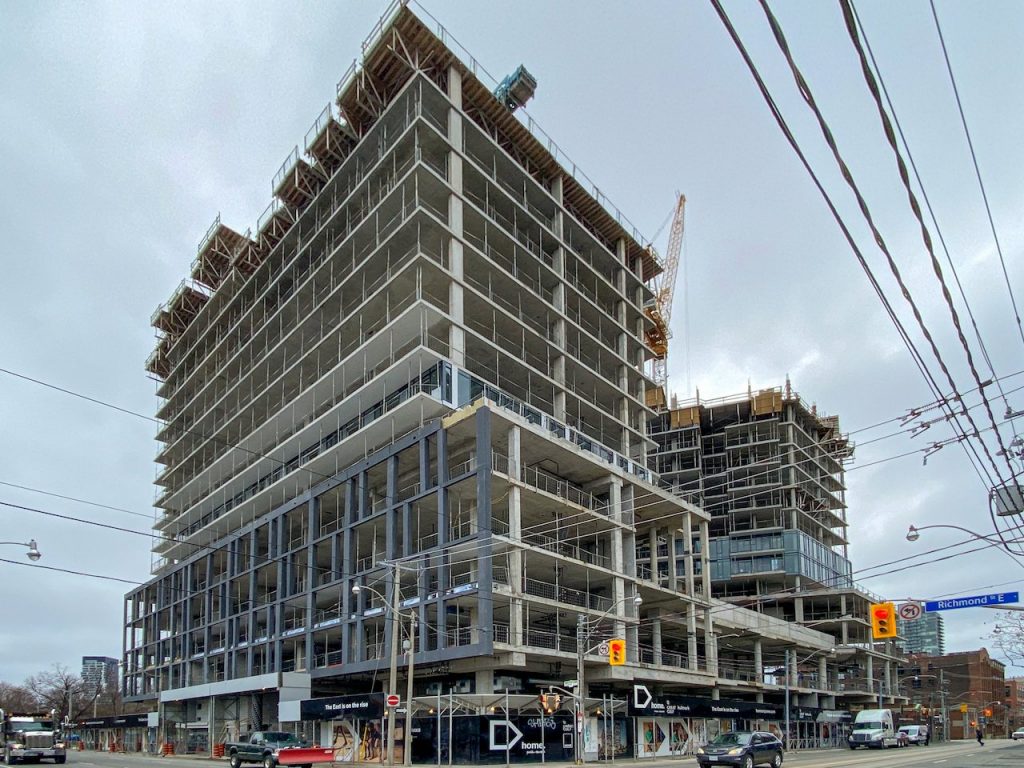 The conversation moves to inclusionary zoning, specifically discussing the West Don Lands, and Steve makes the argument that smaller buildings are a "waste", Ben jumps in and says a "missed opportunity" in the city. "Here's an opportunity [West Don Lands] where they have the land and if they zone it for twice as much density, they can get affordable housing essentially for free. That's a missed opportunity." The guys discuss zoning and question why we aren't building taller towers? "It makes zero sense that those buildings are only 9 and 10 storeys", says Ben.
As a developer, Jeff says, it's really hard to see building more housing as a progressive policy, than the policy they are pursuing now, which is to restrict housing development in these neighbourhoods. "You think they'd want to create as much housing as possible, to be able to create affordable housing for the residents of your city."
Building in the Democratic Process
The conversation continues and the guys discuss a topic we've touched on before: how can we get anything done with a new regime every 4 years? Steve says "It's impossible to build on a 4 year cycle – there's no time."
The guys discuss John Tory, and comment on how, now at year 6 things are finally getting done, but Tory has said he will not run again, which means we're going to be starting all over again. This leads Steve to ask Jeff: What would be the top 3 things Jeff would do, if he became Mayor tomorrow?
Jeff responds:
Remove COVID restrictions on small businesses, fitness, retail, and hair salons.
From a planning perspective I would make it easier to develop in the downtown core and open up the yellow belt to development. We aren't getting the type of housing people want with the policies that we have.
The guys get deep into discussion on policy, planning and more around the 59:00 minute mark, discussing everything from types of housing, to transit and mid-rise guidelines.
Lasty, #3, Jeff says Toronto has everything going for it right now. "I would be screaming from the rooftops, come here, start a business, go to school, bring your family here. Over the next 5-10 years, if we're smart we have the opportunity to become a real global gateway city…. It's a mindset and it's a sales pitch that I would be trying to get everyone behind….We need to plan for the future in an aspirational way."
Hullmark in the Next 5-10 Years
The guys ask Jeff, what's next for him and Hullmark? Jeff mentions he still sees a ton of opportunity in Toronto for retail, residential and office, and the reason why they are so successful is because they really know their target audience. "Expanding to Montreal or Vancouver, or somewhere else, we become the dumb money. Our plan is to continue to keep growing on the same trajectory."
At the 1:12:30 mark, Steve asks Jeff what his biggest mistake is and Jeff shares details about a Calgary development that didn't go as planned.
As always we end the episode with our famous Rapid Fire questions and Jeff answers some controversial topics such as "Do you rebuild the Skydome or do you tear it down and rebuild?"
Tune in now for another packed episode of Toronto Under Construction.