TUC – Episode 3 Blog
Matt Slutsky – BuzzBuzzHome
Toronto Under Construction welcomed their first guest Matt Slutsky from BuzzBuzzHome to the podcast. Matt has an impressive resume, holding an Honours Degree in Urban Studies from the University of Toronto, and a Masters of Science in Environmental Sustainability from the University of Edinburgh. He was a project coordinator at Atria Development, the VP of Development at Diamante Development and is currently the Co-founder and Co-President of BuzzBuzzHome.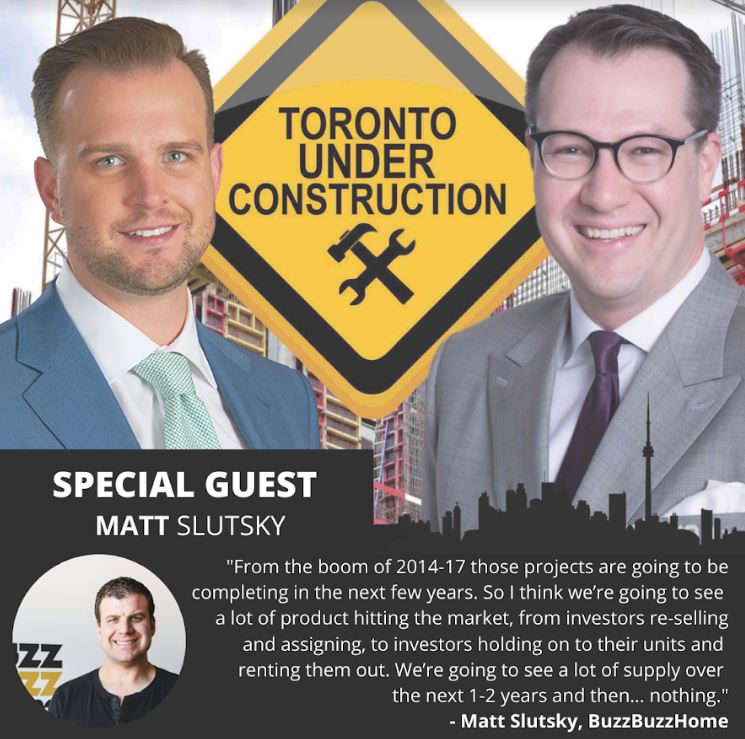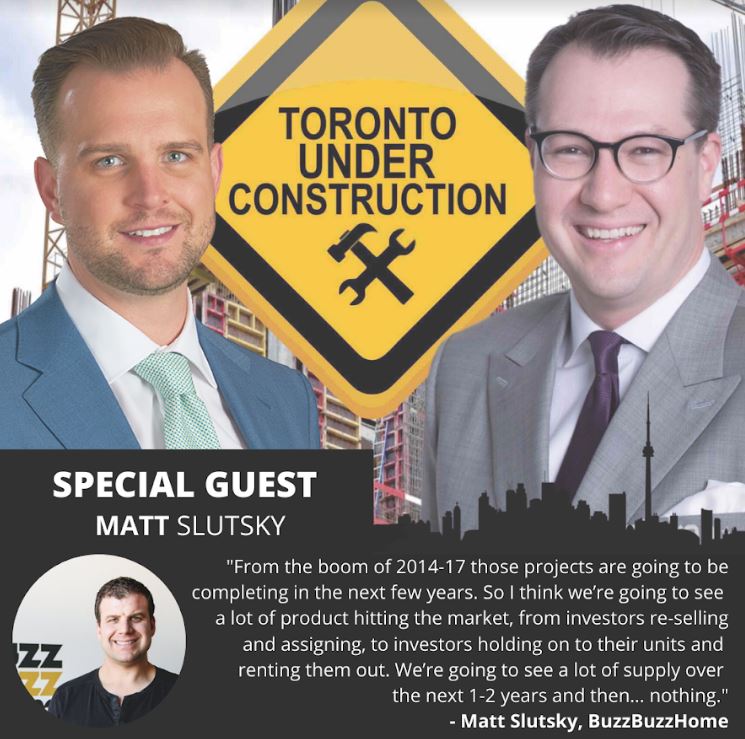 BuzzBuzzHome
BuzzBuzzHome is an online real estate database for new residential developments in North America with one mission: to create the best new home purchasing experience online. Matt walked us through how BuzzBuzzHome came to be, and the challenges he faced creating this new proptech database in a market that wasn't keen on sharing information (like pricing and floor plans), to the public in the online space.
Supply, Demand, Density & The NIMBY Debate
NIMBYism is still strong in Toronto, but it comes down to simple economics: with ever increasing demand, you need even more supp to meet that demand. But without the supply, demand will continue to drive up prices. More supply equals more affordability.
However, the NIMBY debate in Toronto comes from both sides: you have the affluent people who don't want high-rise density in their neighborhoods, and then you have non-affluent people arguing that they don't want their neighborhood to become gentrified and unaffordable.
Matt argues that there is so much opportunity within Toronto to increase density – it's not just high-rise. The YellowBelt, coined by Gil Meslin is a big opportunity in Toronto's low-rise neighbourhoods to improve density, and Matt beleives this is where the city should be focusing to improve density. Places like the Danforth where we have our third transit line, and there are many 2-3 storey homes on low-rise lots and very little towers. Steve mentions we are missing some great opportunities to make our city more affordable.
Low-rise in the city is important, and really it's the missing middle of needing to intensify our current neighbourhoods and Matt believes this is the key to increasing the amount of product coming to the city. Intensifying current neighbourhoods, along with adding more high-rises and a number of other factors – like reducing the time it takes developers to bring product to market.
Sales & Marketing in the Toronto Market
Toronto's market is still dominated by VIP and Platinum realtors, with Matt even mentioning that some of the projects on BuzzBuzzHome never make it to the end user because they are sold out in the VIP stage. The guys discuss the importance of the sales brochure, the multi-million dollar sales offices that became popular in 2017, and the opportunity to buy a new condo online directly from BuzzBuzzHome.
Matt, Ben and Steve covered a lot in Episode 3, that you don't want to miss. Listen to the episode now: Listen Here
Follow Us On Twitter @BenMyers29 and @TheOneStevieC
And thanks to our guest @islutsky of @buzzbuzzhome!
Interested in being a guest on our podcast? Send us an email.