Episode 25 – Toronto Under Construction with James Burton from Percy Ellis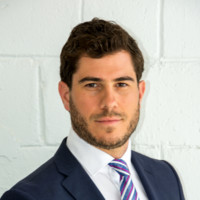 On this episode of Toronto Under Construction, Ben and Steve welsome Mr. Missing Middle a.k.a. James Burton of Percy Ellis Developments to the podcast to talk about his start in renovations, his move to purpose built rentals, and how he and his partner are scaling their business.
We kick off episode 25 with James sharing his background, starting from his days at Queens University where he earned a degree in Engineering, specializing in Telecom. James talks about the acclaimed book The Wealthy Barber, by David Chilton and explains the impact the book had on his early life and on his career. "… One chapter in the book explains leverage, and the concept of leverage, and how you can use it in the most basic ways, something that they don't teach you in school." The idea stuck with James throughout University, his Engineering position at Telus and to his current role in real estate.  
Renovations & Purpose Built Rentals
James' first real estate venture was while he was still working at Telus. He purchased a property that was in foreclosure with the ultimate goal of flipping it. James explains how he learned a lot while taking on the role of the general contractor and all the trades with this project. He knew this was a smart way to learn the business, so eventually, when he could hire Trades, he would have an understanding of their business and how things worked. The timing of the renovation completion wasn't ideal, it lined up with the financial crisis and James' stress levels were up as he had to lower the sale price and saw his return-on-investment decrease by the day.
Always an optimist, James took this lesson, and decided that his next investment would be a rental property. This strategy allows him to have a 'safety income' if he needed to hold the property due to the market. James' next project was a duplex that he renovated into a triplex at Dufferin and Dundas, which turned a great profit. This inspired his friends to start investing in his vision, providing him additional capital that he would use to flip properties. Next, James found himself in Kirkland Lake, in Northern Ontario, where among other things, he learned that each community has its own intricacies. When the Kirkland Lake project sold, disappointingly at a breakeven price point, James decided he would only look within Toronto city-limits for future investments.
His next investment, a building purchased at College and Dufferin propelled him into the world of commercial construction due to the size and scale of the project: four storeys and five units.
Percy Ellis – The Beginning
James goes on to tell the guys about how Percy Ellis and his partnership in the development company came to be, sharing with our listeners that he read a lot of old real estate books that all had one piece of advice in common: one person should put in the money and the other person should put in the work and the profit should be split 50/50. This resonated with James, but he felt that he should have some skin in the game; so he adjusted the model so his investors would put in 95% of the money, he'd put in 5% of the money and do all the work, and the profit would be split 50/50. As he did more deals, the structure changed slightly depending on the project, investment and liability involved.
Currently, James shares Percy Ellis 50/50 with a partner and emphasizes the importance of the partnership at every level of the organization. James and his partner, Emery, were initially introduced by their moms but not too long after, they began their professional relationship with a property on Gerrard. It was then that they decided to form Percy Ellis. James was living on Percy Street and Emery lived on Ellis and just like that the name was decided on.
As James shares more about Percy Ellis' early days, he goes on to share the details about how he acquired a property on River Street from a sibling group that couldn't 'get it together' to develop the land. James felt good about the purchase and confident that he underpaid. "There's always a story like that to every little acquisition. They're not usually that simple and easy… but sometimes they are." The guys continue to discuss the River Street development and the importance of building relationships with the community through transparency.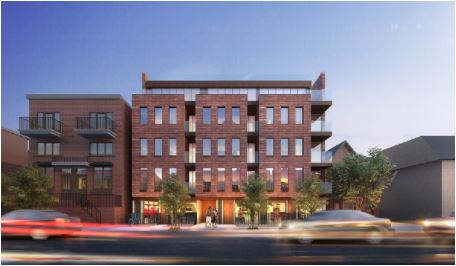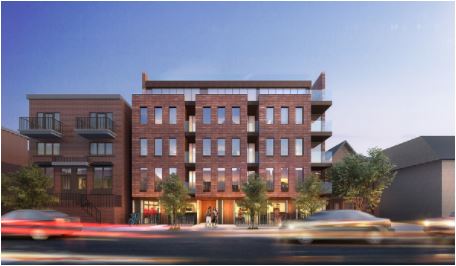 Covid-19's Effect on Percy Ellis
Ben, Steve and James go on to discuss the global Pandemic and how Covid-19 has affected day-to-day business, new hires and new projects, investors, rent prices and dealing with the City. Keeping the conversation positive, James shares that Percy Ellis has grown its head count to 15 employees and the pandemic has allowed the organization to pick up some really great properties for new projects. Rent prices aren't that disappointing either, rates are back to what they were in January 2019.
Growth on the Danforth
As a segue from the Pandemic talk, the guys discuss the challenges that neighbourhoods have with keeping small shops alive – especially over the last 18 months. James shares that in order for communities to really thrive "we need population density to support the small shops and restaurants". Citing The Danforth as an example of a community with a lot of turnover, James mentions a lack of density, especially around the subway stations where population should be much higher. The guys discuss how the number of people living in each household is decreasing and how it's resulting in a serious struggle for the commercial operations of the community. James goes on to tell the guys about the project he's working on in the Danforth area. He truly believes in investing in the community and this includes his retail strategy, which allows mom-and-pop shops to be tenants in his development at a price point that is affordable to them, without affecting his Pro Forma.
As the Podcast wraps up, James is prompted to reminisce on his participation in the Toronto Real Estate Rumble – an industry boxing tournament that took place a few years ago. Next, Ben and Steve get into their famous rapid-fire question and answer period and James is asked to answer questions with as few words as possible. He answers questions like: "Should the City allow 6-storey buildings on every street in the city?", "Do the Leafs trade Mitch Marner?", "Will Eglinton LRT construction be done by the end of 2022?" and more!
Learn more about Percy Ellis at www.PercyEllis.com
Tune in to another episode of Toronto Under Construction, now streaming on iTunes and Spotify!
Follow Us On Twitter @BenMyers29 and @TheOneStevieC