by Ben Myers
Bullpen Consulting prepared a quick five question survey on the Greater Toronto Area condominium apartment market in early June and sent it to our distribution list via email, and it was posted on my personal LinkedIn page.
We would have liked to get more responses from developers, lenders and brokers, but people are busy, and here are the results from the 33 responses.
Every day a different set a data is released that can sway are views on the future of the condo market in Toronto, but we wanted to get a sense of what the industry was worried about. The biggest concern among real estate industry professionals regarding the Toronto condo market is Less Immigration, that was picked as the most worrisome factor by 24% of respondents.
The High Unemployment Rate was second at 21%, and that rate got higher based on May numbers released on June 5th. The industry is equally as worried about the Soft Resale/Rental Market and Tighter Credit right now, and the recent announcement by CMHC regarding the requirement for higher credit scores and no borrowed down payment for insured mortgages will likely negatively impact first-time buyers. However, that will keep more households renting, and boost rental rates (that have been declining recently). A pick-up in rental rates is good for investors interested in improving their cash flow.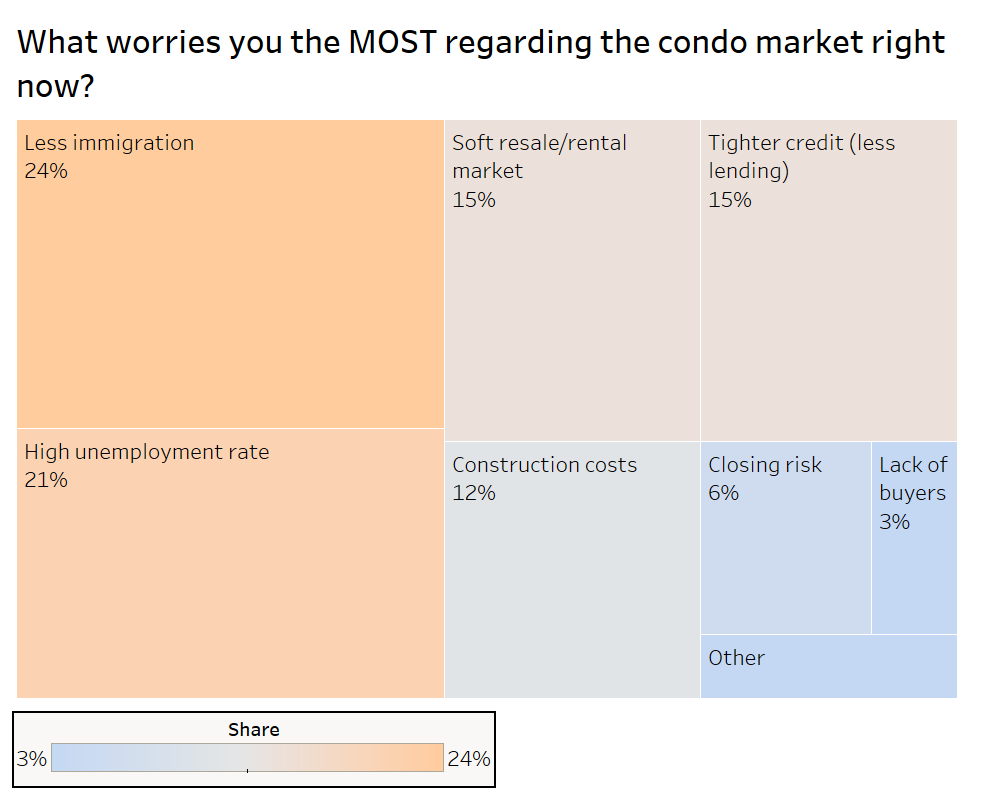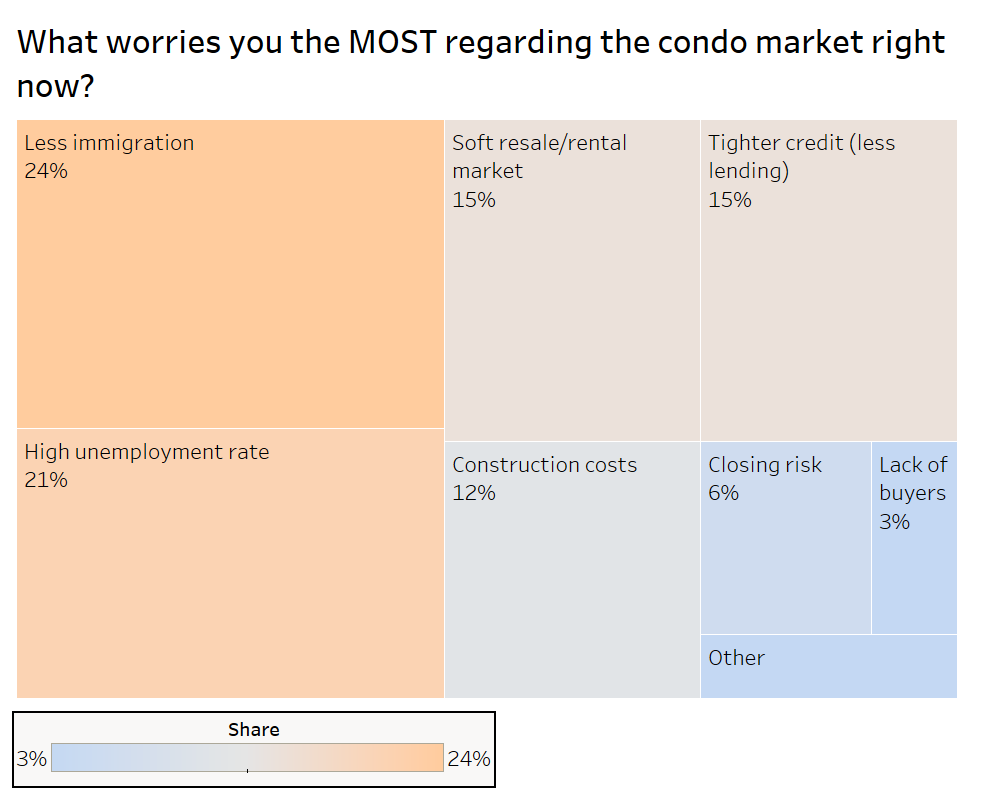 Investors are a wild card right now, they make up the majority of new condo sales in the GTA on an annual basis and help developers reach the sales threshold required to secure construction financing in a timely manner. Does the industry expect that they'll come back at the same booming pre-pandemic level?
Over 60% of respondents believe that GTA new condo investors will not buy at the high and booming pre-pandemic level in 2021.
One respondent indicated that it is all about location: "Investors will still buy quality locations, less of the C locations"
However, that does not necessarily automatically entail that a project wouldn't successfully sell next year, does it? We tried to find out in the next question.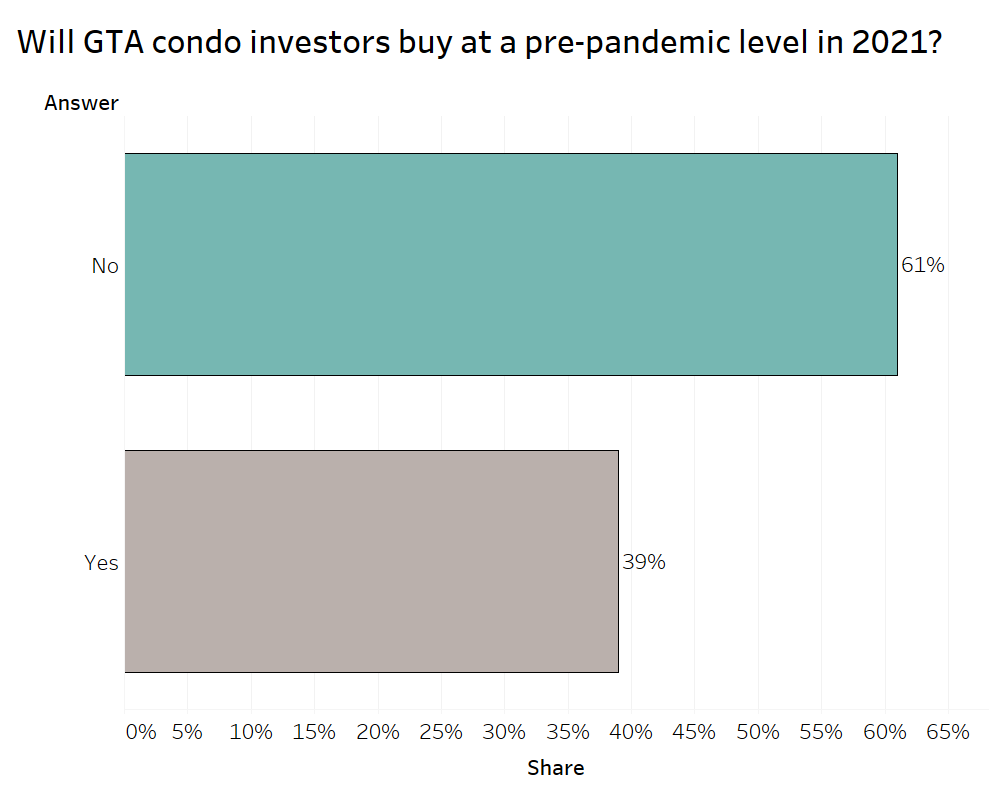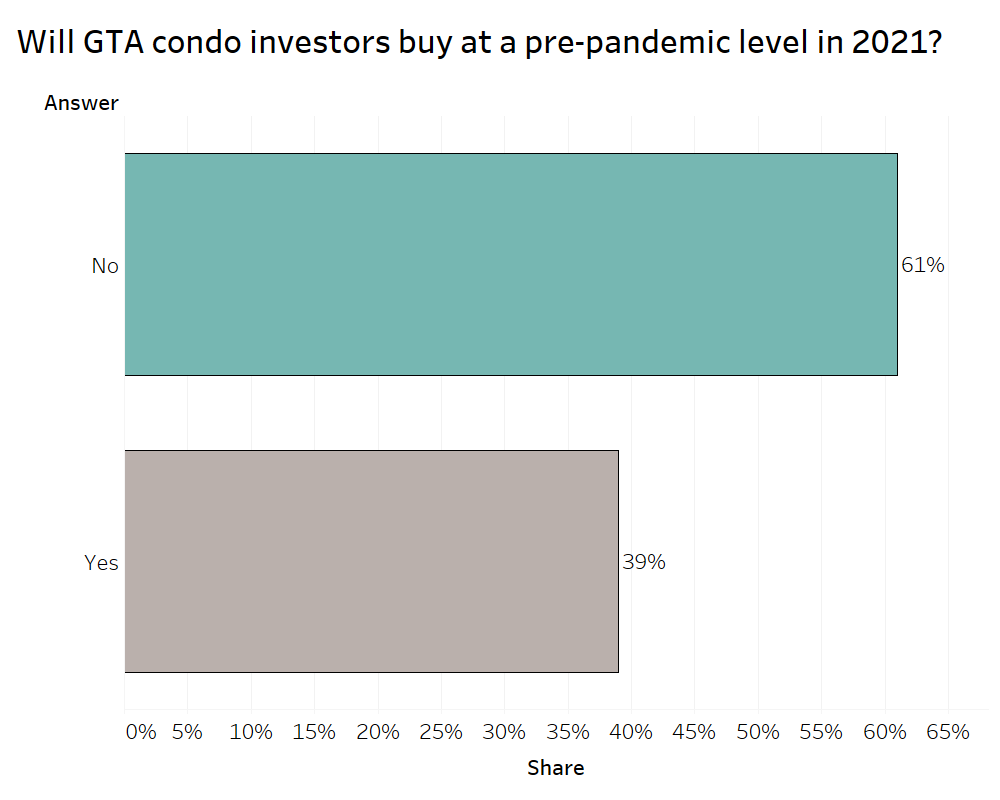 Bullpen Consulting has completed a number of studies for developers and land owners looking at their sites as both a rental apartment and a condominium apartment, looking at the market metrics for both. We were curious to know if the industry thinks condo projects should be converted to rental tenure, and if not, what should their strategy be.
12% of respondents indicated that developers should switch their projects from condo to rental tenure because of this pandemic and the resulting economic downturn, while 67% said they should simply delay the launch of their project until 2021. Almost 20% of respondents think developers should launch the sale program for their new condos this year as planned – a couple projects are now launching virtually, and the whole industry will be watching to see how quickly the units are absorbed.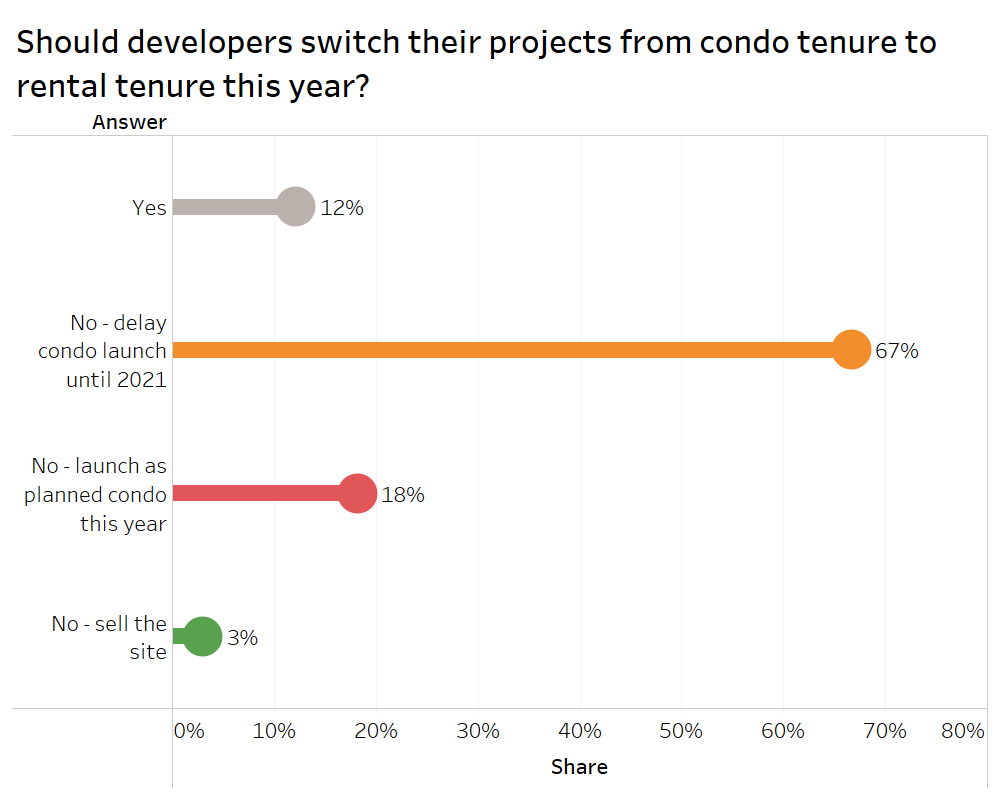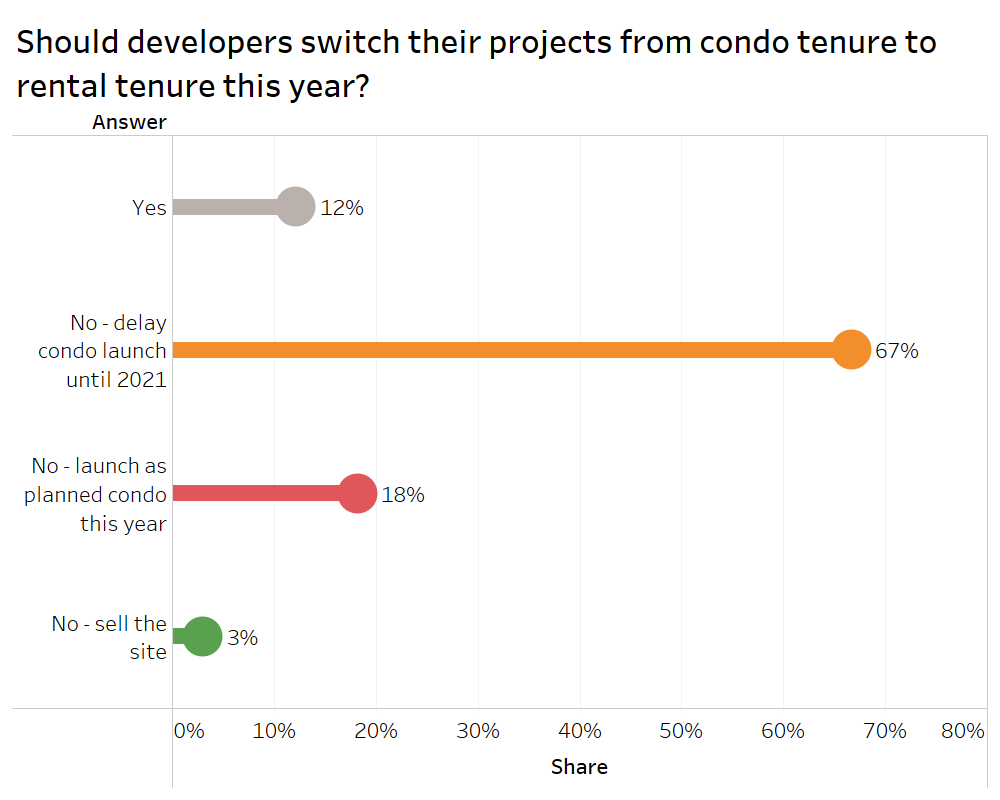 These projects might sell, but what are they selling for? Are developers offering significant discounts from the booming market of 2019 and early 2020. We asked the industry what they expected in 2020/2021 in terms of the average unit price compared to its pre-pandemic level on a per-square-foot basis.
15% of the respondents believe that prices won't come down – this is often the case in the new condo market as many developers are reluctant to drop prices and upset previous purchases, while others are working on tight margins and don't have the room to decrease prices (and instead offer various incentives or scrap the project), or in the case of developments that are under construction or considerably sold, they just wait for the market to recover, because they have time before closing to do so.
However, 45% of respondents to this Bullpen Consulting survey believe that GTA new condo prices will drop by 5% annually in 2020/2021 from the pre-pandemic peak. About one-third of respondents expect a correction to be more severe, calling for a decline in prices of about 10%. Lastly, a decline of more than 10% was chosen by two of the respondents.
Here is a comment offered by one respondent: "Prices will be flat, maybe increased incentives (deposits, etc.) . Also, continued smaller unit prices will keep PSF up. Finally, some decrease may occur as highest end luxury buyers pause, needs-driven and longer-term investors will continue to buy in 900-1000 psf range."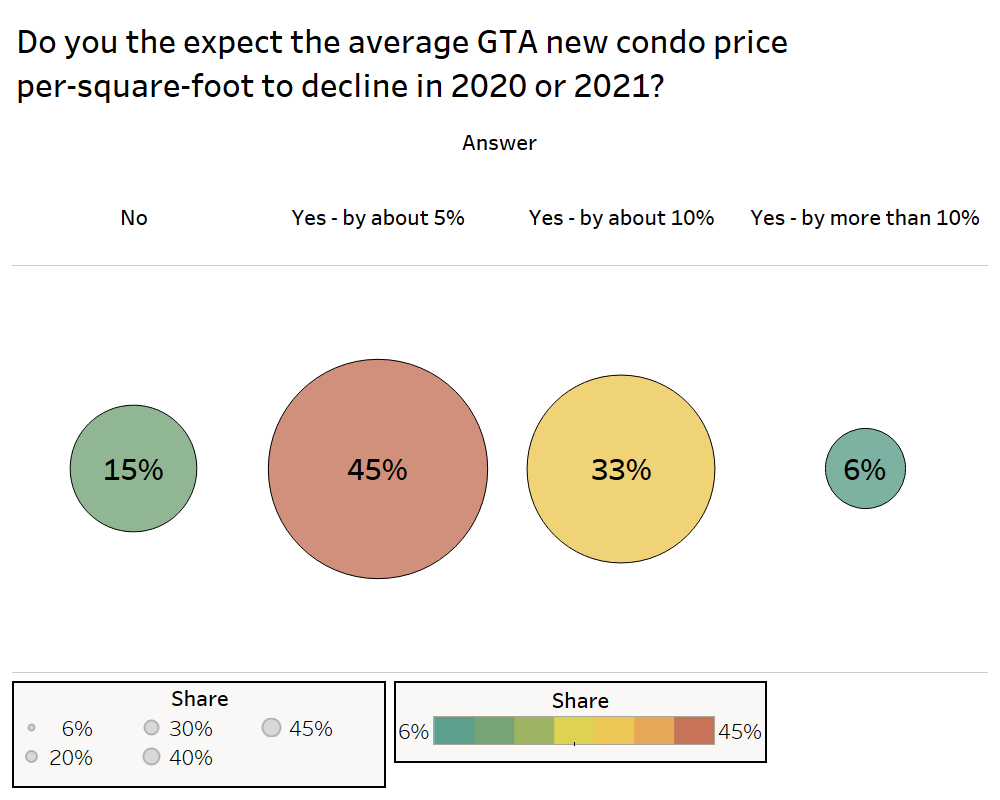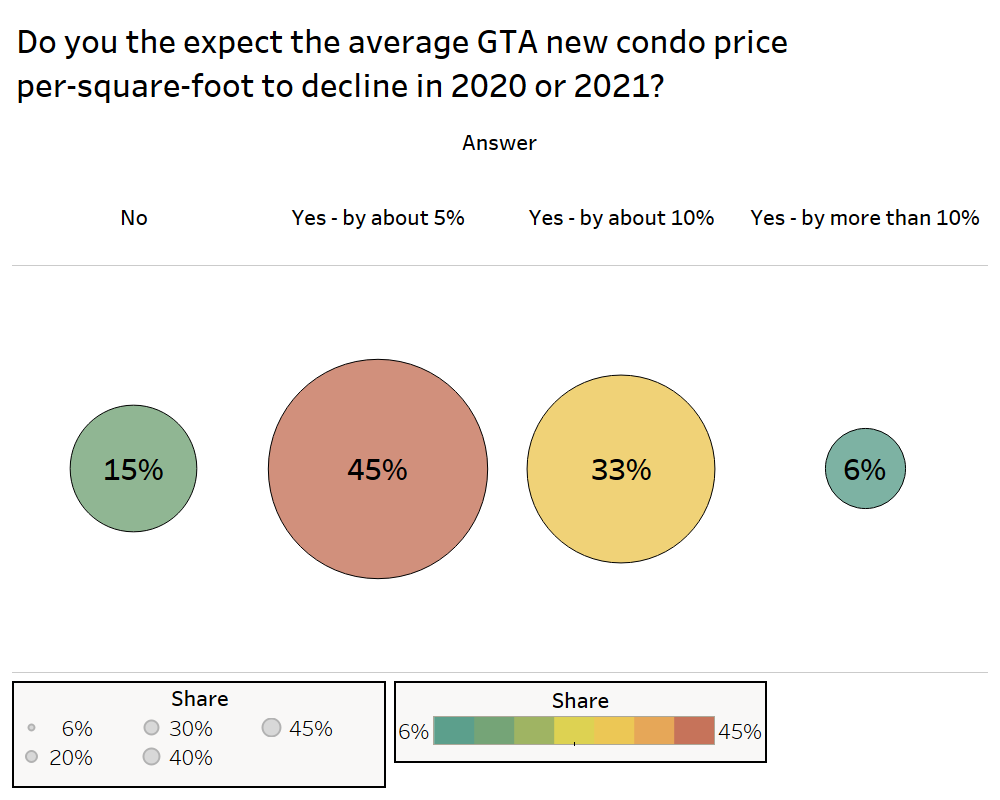 If new condo prices are dropping, what should a developer's strategy be regarding buying land? 9% of respondents think that developers should not buy high-density land right now. Almost 80% of respondents to this residential real estate industry survey believe that developers should be looking to buy high-density land right now, but at pre-pandemic price levels. 12% of respondents are not worried, and think developers should buy today at no discount 2019 and 2020 land values.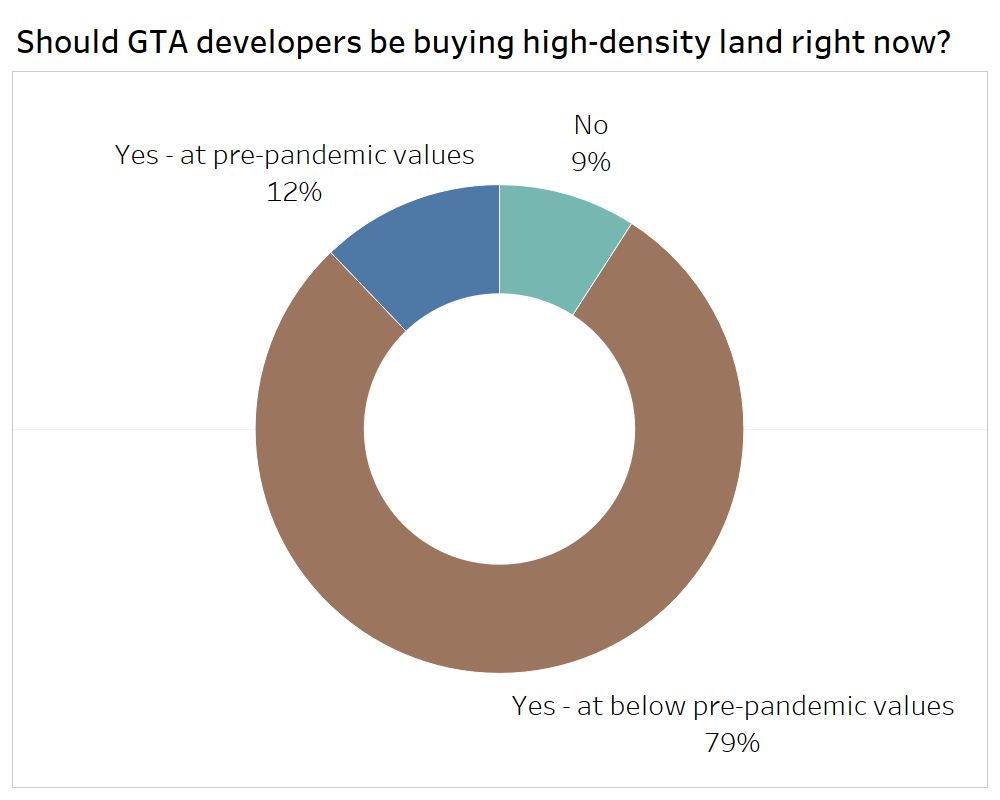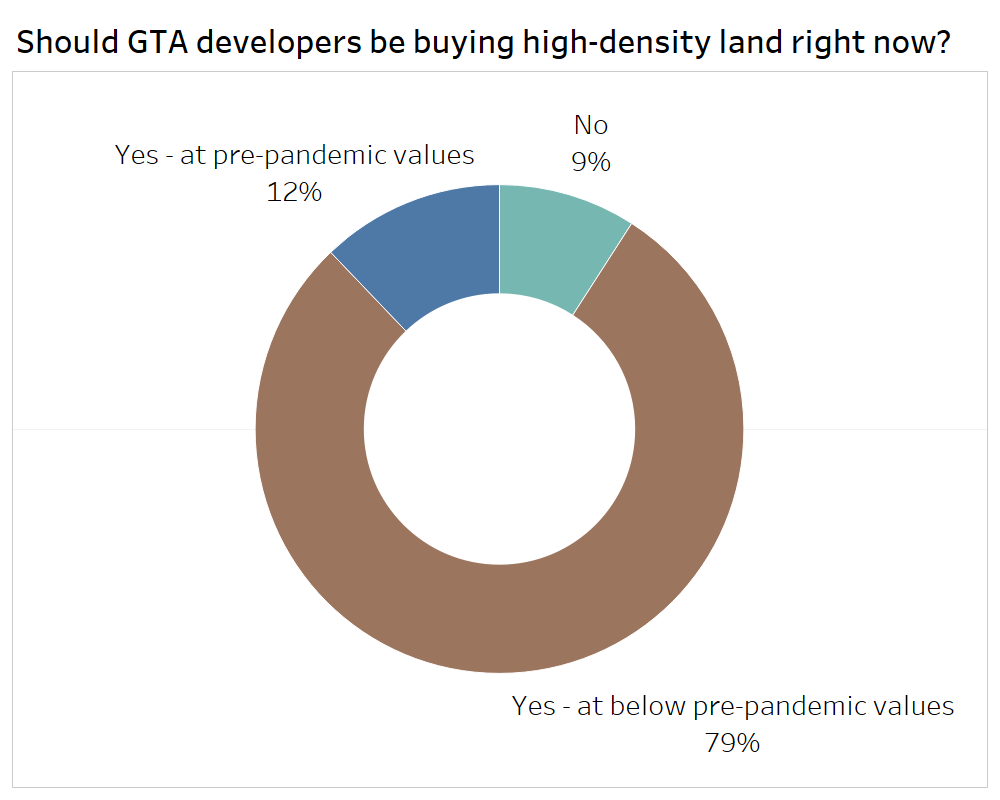 Developers are still in the game, looking for deals, and nearly no one is calling for a major crash in values. If you need some help underwriting your deals from a market perspective, please give me a call!
____________
Further Reading
Livabl: GTA Condo Investors hit with Negative Cash Flows
RENx: The Value of Multifamily Land Dips
TorontoRentals.com: May 2020 GTA Rental Market Report
Toronto Star: Rental Rates fall 5.5% Amid COVID-19 Concerns
Vancouver Sun: Why Rents Dropped Sharply in Vancouver